Marshmallow is one of 25 cats that was rescued from a hoarding/divorce situation in North Carolina in April. Animal Life  R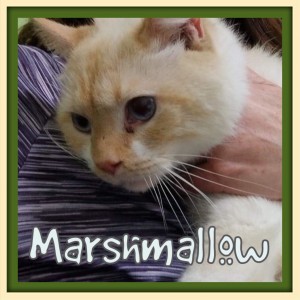 escue took in 16 of those cats, and Marshmallow is one of them. While a little timid, Marshmallow is vetted and adjusting to her new surroundings and is looking for a forever home.
Animal Life also took in one of 10 dogs rescued in this situation. To learn more about the rescue of Marshmallow and her "siblings," click here.
For more information on Marshmallow or any of the other cats in Animal Life Rescue's care, contact animallifeinc@gmail.com.