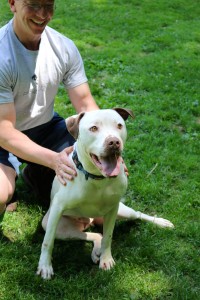 Calvin is a sweet big boy. He loves attention and being around people.  He is friendly with dogs and cats. He would be better in a home without small kids just because he is so big and goofy.


Calvin is such a lover!  He loves playing with you, chasing a tennis ball and running around the yard. He is very smart and easy to train, has no aggression at all and can be around everyone.
If you love big dogs and need a companion for your summer adventures, Calvin is th


e perfect match.
For more information about Calvin and other dogs like him, please visit 
www.Suruluna.org