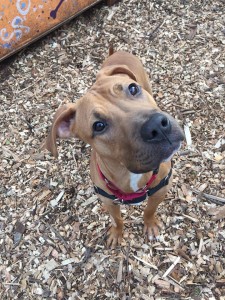 It's Christmas! No not the holiday, the dog! Christmas is an 11-month-old boy who's still has lots of puppy energy! He's a lovable and friendly guy who leans in for snuggles in between bouts of the zoomies.
Christmas gets along well with other dogs, though he can be on the pushy side, so he'd need a canine pal who's cool with that. Since he can be a little jumpy and he's a big boy, bigger kids around 14 and up would be a good fit for him. Christmas is a smart guy who's doing well with training at the shelter. He'd like a home where his training will continue and where he'll have lots of outlets for his energy. Go meet Christmas!
Christmas & all of the SPCA of Westchester's animals can be seen at www.spca914.org and the SPCA of Westchester is located in Briarcliff Manor, NY.