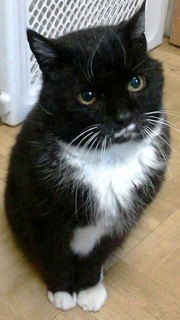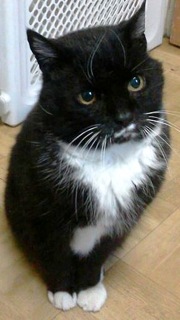 Russell is a gentle, loving and handsome older gentleman. He is currently earning his "keep" by "working" as an assistant to the Cottage staff at the SPCA of Westchester (NY). Russell likes to help when he can (or when he is not napping, daydreaming, eating, relaxing, etc).
Russell keeps the staff company because his eyesight is limited due to a high blood pressure situation. He is taking medication and it is hoped that this will enhance his current "shadowy" eyesight. But even with limited sight, he has no problem locating his food and water dishes, all of his cozy beds (even when they get moved around) and most importantly his litter box!
Russell loves attention and has a warm and welcoming purr. Everyone who meets him is surprised that I am classified as a "senior." He is, at most, an adult cat. Unfortunately he was a "stray" found by a Good Samaritan. Russell is content and grateful for his SPCA office home. But he would be even more content in a home with a full-time family! Please visit and ask to meet him — "ask for the beautiful Tuxedo named Russell!"
*Russell & all of the SPCA of Westchester's animals can be seen atwww.spca914.org and the SPCA of Westchester is located in Briarcliff Manor, NY.