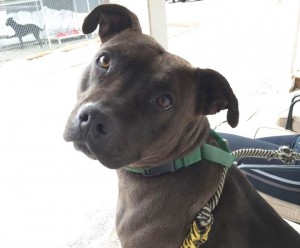 Honey is a beautiful Pitbull around 2 year's old. She's an outgoing, fun-loving girl who loves people and other dogs alike. She LOVES her playtime with other dogs.
She's active in general, often leading the pack with the SPCA Running Team. Honey does very well with training and loves nose work; she's a smart girl and would love a home with someone who will continue to challenge her mind and teach her new cues. A perfect day for Honey would be going for a run or a trip to the park, having a game of fetch, then heading home for a snuggle fest with her people.
Older kids around 14 and up would be a good fit for Honey, just because she's a big strong girl who could knock over little ones when excited. If you've been looking for an amazing best friend, come meet Honey!
Honey & all of the SPCA of Westchester's animals can be seen at www.spca914.org and the SPCA of Westchester is located in Briarcliff Manor, NY.