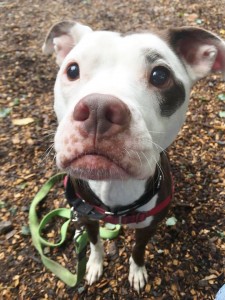 If you can look at Lola's face and not fall in love, you're way tougher than we are! This 7-year-old chocolate and white girl is gentle, smart, cuddly and very playful. She loves people and dogs, and we were told she also gets along with cats (SPCA of Westchester can test that to confirm).
Lola really loves her play dates with other pups! This petite girl (she's just under 40 pounds but needs to put on some weight) will make a great addition to one lucky home; she'd be a good fit for kids 6 and up. Come meet Lola!
Lola is a participant in The Way Home program sponsored by The Tortorella Foundation!
Lola & all of the SPCA of Westchester's animals can be seen at www.spca914.org and the SPCA of Westchester is located in Briarcliff Manor, NY.