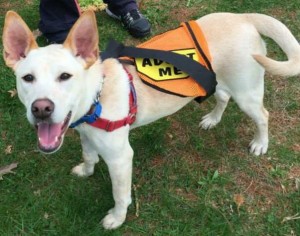 Meet Penelope, an 8-10 month old shepherd mix with soulful eyes and a heart as big as, well, her ears. Penelope is rocking the fashionable neck brace look because she has a wound on her front leg that she's just itching to lick; the wound is healing up nicely and it doesn't slow her down at all.
Penelope gets along well with other dogs. She's a little cautious in new environments and likes to get to know people slowly, so we think older kids would be the best fit for her. Once she knows you, all she wants to do is be with you — resting her head in your lap is her favorite thing. Penelope is a wonderful dog looking for a wonderful home. Could it be your home?
Penelope & all of the SPCA of Westchester's animals can be seen at www.spca914.org and the SPCA of Westchester is located in Briarcliff Manor, NY.