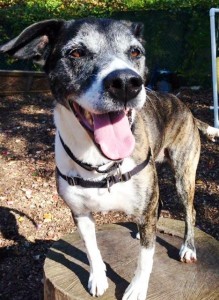 Sadie is a gorgeous, senior pitbull/shepherd mix loves people! She does a happy dance every time she sees someone she knows or is meeting someone new-she just loves everyone!
Sadly she was in a home for quite some time and was returned  when the owner's found out they were having a baby. Sadie hasn't been around many children so she is fearful around any and really doesn't care for other animals. She just wants all the love and attention to herself. Who can blame her?! She'd be wonderful for someone looking for an older dog that is trained and who will be a constant companion, always by your side and more of a couch potato!
*Sadie & all of the SPCA of Westchester's animals can be seen at www.spca914.org and the SPCA of Westchester is located in Briarcliff Manor, NY.