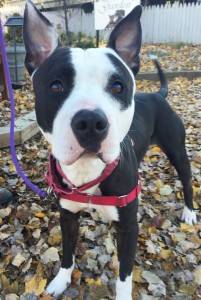 And we have Sly, a unique looking bull terrier/pitbull mix, who is also around 2 years old. His ears are just too cute and his facial expressions are priceless. He came in as a stray to the SPCA of Westchester and has quickly become a volunteer favorite because he is so sweet and easy going.
Sly walks really well on his leash and is fairly energetic as he still thinks he is a puppy at times so he'd love a family that enjoys the outdoors and is active. He also loves to just be by your side and likes to chill out once he gets his exercise.
*Sly & all of the SPCA of Westchester's animals can be seen at www.spca914.org and the SPCA of Westchester is located in Briarcliff Manor, NY.