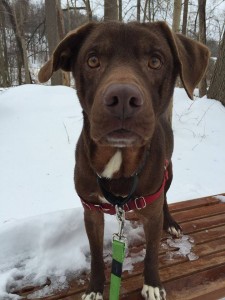 This 2 year old pitbull/lab mix is quite the stunner. He is currently being treated for heartworm, which means he'll need to stay on the calm side for the next few months while the meds do their thing (leash walks, no wild play sessions just yet).
He'd love a home with people who will challenge his mind because he's such a smart guy; he loves to go to obedience class and learn new things, he likes playing "find it," and he also loves cuddles.
Thumper would do well in a home with kids around 12 and older, and he likes most other dogs. When his treatment is done, Thumper will be a blast to play with, go for runs with, and he'll make a super hiking partner. He's an all-around great dog looking for a great new home. Go meet him!
Thumper is one of the dogs in the SPCA of Westchester's "The Way Home" program, which is supported (in part) by the Tortorella Foundation. Click here to learn more about "The Way Home."
Thumper & all of the SPCA of Westchester's animals can be seen at www.spca914.org and the SPCA of Westchester is located in Briarcliff Manor, NY.