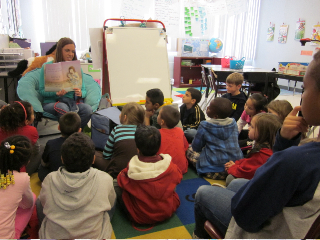 Brittany Tortorella makes a special visit to read to the children. The children especially enjoyed listening to Annie and Little One, the musical story book about self esteem and friendship.
Miss Tortorella has a Masters in Childhood Education and is working in elementary education in New York state. She was a "reading guest" to Miss Sammi Arndt's first grade classroom at Corr Elementary in Apollo Beach, Florida.
Brittany is working toward establishing a career in education and is developing a reading and writing program for the Tortorella Family Foundation.All the children in the classroom received their own copy of "Annie and Little One" and a story book journal to use in writing and drawing their own stories. The children were overjoyed to use them during their writer's work shop time.
Christine Tortorella has written several books, which can be found at www.dobugshavebellybuttons.com. All of the proceeds from the sales of her books go back into the Tortorella Foundation to benefit literacy programs throughout the country. Annie & Little One is now available in hardcover. Click here to order.