The Tortorella Foundation held a fundraiser and humane education event during the pre-World Cup exhibition  hockey game, September 9 in Columbus Ohio, called Cups & Pups at Nationwide Arena.
As a result of the fundraiser the foundation met its $10k goal, and John and Christine Tortorella and family promised to match that with $10k of their own! Their promise is to put that $20k back into the Columbus Area animal rescue community including groups such as Homeless to Home, I Have a Dream Rescue, Act of Ohio, Stop the Suffering and so many more. Our goal has been to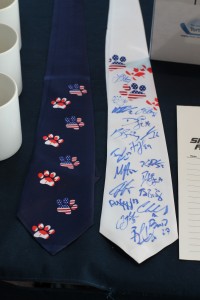 make a significant different in the quality of life for homeless animals and works to help the long-term sustainability of area rescues – as they are making a real difference in the lives of these helpless animals.
We are so grateful to the Columbus Blue Jackets organization for all their dedication and hard workbefore, during and after the Cups & Pups Fundraiser! We cannot thank you enough.