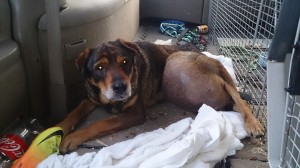 Dominga is an "old dog" with a huge tumor that was rescued off the streets of New York City by Almost Home of Long Island. Concerned citizens in the Bronx reported the homeless dog to Almost Home as she had a huge tumor.  After a 3-week pursuit she was caught and had surgery to remove the 17 lb. tumor! During recovery, she went into cardiac arrest and fell into a coma with very little chance of ever coming out of it.
Linda Klampf of Almost Home Long Island was caring for Dominga during this time. Dominga wa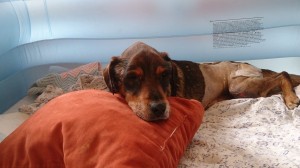 s having episodes, while in her coma, of her calling out and moving her legs. Linda believed this was a sign she was trying to come out of her coma.
She was right! After three weeks in a coma, Dominga came out of her coma and is making a slow recovery. She has brain damage and still cannot see, but her hearing is starting to return, and she's walking, too!
They don't know how far she'll come, but she is truly a miracle so far! She may even be giving kisses. 
Sometimes we catch a break and can save some special dogs that appear to be unsaveable! It is worth trying, as you see. The Tortorella Foundation is a proud sponsor of a portion of Dominga's surgery. Dominga is now a proud member of the Foundation's Bear's Angels program.
"You start to lose faith in humanity sometimes," Klampfl said. "But something like this brings it back."
Dominga's recovery will likely be a long road. She continues to have acupuncture, take herbal supplements and receive anti inflammatories to help with the surgery recovery.
To help with Dominga's recovery costs, please visit
www.almosthomeli.org
and please reference Dominga.
UPDATE: Sept 9 we received notice that Dominga is doing better every day!
"She is doing well. She still can't see but definitely acknowledges when you call her name. Her appetite is great and there is no tumor regrowth as of yet. She very funny. When one of the rescue's family dogs bark at her, she barks back. So cute!"