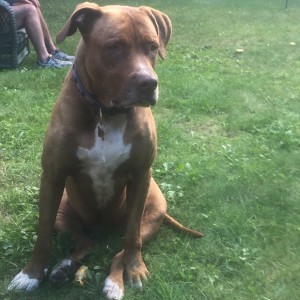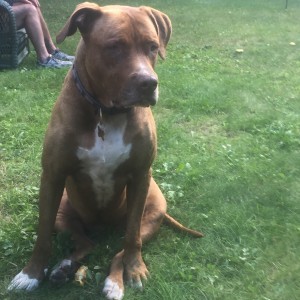 EMA, Tortorella 's beloved  family dog, recently passed from an aggressive lung cancer. Ema was not just a member of their family — she was an inspiration for many of their own rescue efforts and their support of animal rescue groups in need of support.
Ema was adopted by John and Christine Tortorella's son, Dominick, from Fort Lonesome, Fl. She was the family's first pit bull and so their love of the breed began.  While being involved in various rescue activities over the years, the understanding of how  the breed has been so seriously mismanaged and misunderstood, came to light after Ema joined their family.  
They've never looked back. And now their foundation has worked with rescue groups, promotes humane education and has initiated and supported programs dedicated to the humane treatment of animals.
John Tortorella, head coach for the Columbus Blue Jackets of the National Hockey League, was selected to coach the Metropolitan All Star hockey team in January of 2017. Coach Tortorella declined the invitation to the All Star game when he learned Ema had terminal cancer. Tortorella needed to be there for his family, and most importantly Ema, in her final days. During the All Star weekend, news of 
Tortorella's
 absence connected with animal lovers all over the country (and Canada), who made donations toward the foundation — some in honor of Ema, and some in honor of the Tortorella's son, who is serving in the military. For these thoughts and donations, the Tortorella family and foundation is truly touched.
"Your thoughts mean the world to our family," Christine Tortorella said. "We are very aware that we are among many many people who grieve the loss of  their pets..  And we will be even more dedicated to improving the lives of animals in crisis."
The Tortorella family will match these heartfelt donations made in Ema's honor — which were almost $1000, and use the funds  in a rescue program in the community that will make an important difference in 
animals lives.  
More information about where the funds will be used is promised soon.