There are few things more rewarding that witnessing the adoption of a shelter animal. For some, however, lack of socialization, breed-type and behavioral challenges can dampen chances to find a forever home. The Tortorella Family Foundation is proud to sponsor "The Way Home" program with the SPCA of Westchester, a no-kill animal care campus in Briarcliff Manor, NY. The program focuses on working with large, and bully breed dogs, typically the toughest to find homes for. Joanne Langman, Behavior and Enrichment Director and Lisa Ricker, manager of the Way Home Program are constantly looking for ways to improve shelter animals' odds of being adopted. According to the pair, kennel reactivity – becoming over excited when people are viewing a dog -was the biggest challenge to overcome Here are a few stories that demonstrate the wonderful success of the program.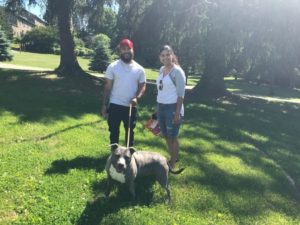 Natasha, a five-year-old pit bull mix spent years at the SPCA, mainly because she did not show well to potential adopters. Natasha jumped and barked in her kennel whenever anyone approached. Joanne and Lisa decided to schedule a meet 'n greet with potential adopters at a nearby park that Natasha loved. The change of venue worked well – Natasha was calm and affectionate and went home with her new family
Gloria's kennel presentation was horrible. A large, brindled pit bull who was at the SPCA for 5 years, Gloria grabbed her leash in frustration and violently shook her toys when potential adopters first approached her kennel. Due to the actions of an SPCA volunteer who loved to take Gloria for rides in her car where she was calm and affectionate, Joanne and Lisa arranged for her new family to meet Gloria during one of these joy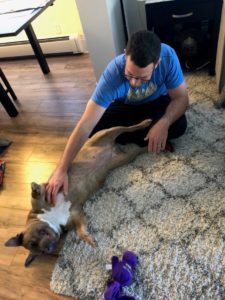 rides. Success was immediate. Outside of her kennel, in a "real life" setting, Gloria was a completely different dog.
An extremely shy dog who cowered in the back of her kennel was paired with another shy dog. The two bonded beautifully and after one was adopted, her new family came back for her bestie. Through The Way Home program, Joanne is always looking for new ways to help dogs reduce fear and frustration while they are sheltered, so that they might know the happiness of a forever home. Joanne's goal is to see more dogs "go from cage to couch!'