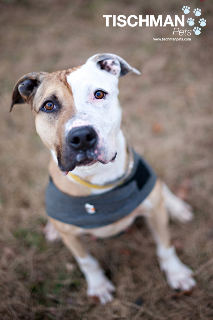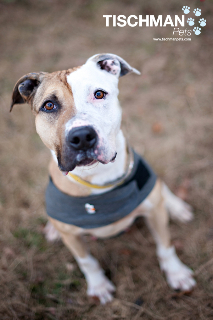 Lola Adopted October 2012
Lola was brought to WHS as a stray October 1st, 2007 and on October 2nd 2012, after 5 long years, she finally found her wonderful forever mom. 
Lola is doing very well and I can't believe it has been almost a year since I adopted her! We actually moved. I already started a walking routine with her in the morning so she gets familiar with our new digs and the neighborhood.
Through the year, Lola has shown signs of separation anxiety or at least what I think is separation anxiety (based on information you gave me and my vet). I would leave for work or leave home for a few hours and she will some times pee or rummage through things. What is interesting is that she doesn't chew things up (unless it's trash and food related) but she pulls things down from tables and leaves it on the floor. She has a tendency to find the trash if I do not secure it enough, and she goes through it.
To try to fix this, I walked her a lot more before leaving, bought the spray recommended by the vet and pet stores that prevents her from chewing on things and I have a lot of toys for her to keep her busy. So far, some of that has worked. We are still working on it.
A great development has been her being able to get along with my parents' basset hound! She and Lucy walk together, lay around the house together and we can even leave them alone when going out. I've learned that Lola only gets aggressive around other dogs if food is around. So we feed them in separate areas and make sure that treats are distributed carefully.
Lola has really been wonderful, though. Every one who meets her loves her (my Dad especially).