Rusty was brought to WHS twice as stray before being surrendered by his previous owners. Rusty spent more than a year and a half at Westchester Humane Society before his perfect family came along!
Rusty is nothing short of amazing, and in a year he's come so far.  He is 80 lb. of mush!  He new family has learned he doesn't like thunder (hence the blanket picture) or fireworks.  He's got the funniest personality, he never really barks, but does a growly type of grumble like he's talking.  He loves it most when his family is together; and does not like it if they argue.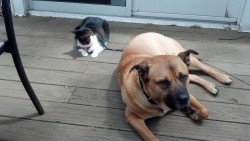 He has just started to love belly rubs, too!  Toys are still not his strong point, but he runs and runs and runs in the backyard all the time.  He loves his morning walks, but when he's done, he's done.
He's still a super picky eater, with food and treats.  We feed him lotus … but to be honest I'm starting to think he just holds out in case there's something for him coming from the kitchen.
He and Vita, the family cat, are better and better friends (as you can see in the pic above) but she still rules the roost.  His family even hired a trainer for his "selective hearing" (lol), which is going well!