Jada Rosie was used for breeding and as a bait dog before her previous owner, who was charged with animal cruelty. A handful of medical issues has plagued this sweet girl, who people say "…to know her is to love her." The shelter described her condition when she first arrived as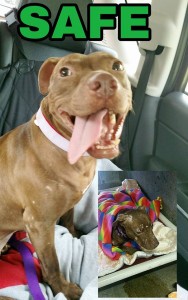 "horrifying."
Jada was slated for euthanasia on July 17 and rescued just in time. Upon rescue, they learned she had an immune system disease that caused her body to attack her own blood cells. Her status is improving and as soon as the red blood cell levels are normal she will be spayed and her rotting teeth will be removed. In addition, Jada has two blood parasites and hook worms that she is fighting and treated for (which is slowing her improvement). Jada gets blood work done every three weeks, and the bills are mounting up. But Redemption Rescues is not giving up!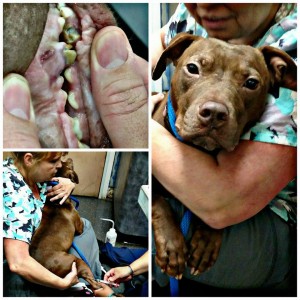 In addition, due to the mistreatment by her previous owner, Jada regularly works with a trainer for improving her dog-to-dog interaction and potty training. She is making great strides, but they are hoping to get her surgeries taken care of soon.
Despite Jada Rosie's hard life, she is absolutely wonderful according to her foster family and rescuers. Jada's foster parents, Estee and Andrew, recently lost their dog handsome, and have fully committed to Jada's recovery, treatment and training. Thank you, Estee and Andrew, for being heroes to Jada.
Jada is one of Bear's Angels, a recipient of medical funding/help from The Tortorella Foundation. If you, too, would like to contribute or for more information on Jada, please visit Redemptionrescues.org or visit their Facebook site here.