ATTENTION:  Dixie has been adopted! She was at the SPCA of Westchester for more than 3 years and is a senior pitbull that was originally rescued by us from Hurricane Katrina! Was adopted for a few years and then returned when they had grandkids and they felt Dixie wouldn't do well with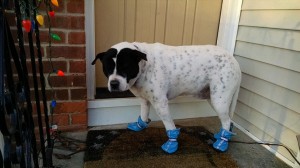 them.
In the picture to the left, Dixie is clearly not thrilled with her snow booties, but we love the fact that her new dad insists she wear them so to not hurt her paw pads!
THIS IS HOW WE FIRST INTRODUCED DIXIE!!! Dixie is a 9 year old pointer/terrier mix rescued during Hurricane Katrina and transported to the SPCA. She was adopted and lived in a home for 6 years until her owners could no longer care for her. She's an easy, laid back companion who just likes to spend time with her people. She likes to be outdoors and active when she can be; she enjoys walks, playing fetch in the yard, and even hits the trail with the SPCA Running Team, where she walks and jogs!
She's also happy to be a couch potato, too! She's a champion cuddler, and belly rubs are her favorite! She doesn't love other dogs or cats, and at this point in her life she'd like a quieter home, so kids are not really a fit. The perfect life for her would be in a relaxed home with someone looking for a warm, loving companion. Dixie has so much love and friendship to offer. She is a staff and volunteer favorite at the SPCA of Westchester.
*Other dogs like Dixie & all of the SPCA of Westchester's animals can be seen at www.spca914.org and the SPCA of Westchester is located in Briarcliff Manor, NY.