On a dark October night, a rescue volunteer was finishing up a transport of recently rescued animals when she watched a truck driver pull over and push a dog out of the cab. The man quickly drove away as the confused, abandoned dog chased the vehicle.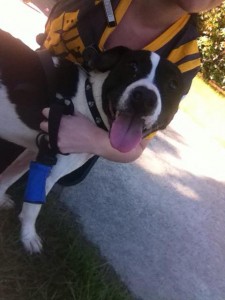 Dixie, now Lucie, was rightfully sad and confused when the volunteer and a couple of onlookers came to her aid. The couple kept Dixie over night but couldn't keep her longer. The TortorellaFoundation heard the story and offered to pay for Dixie's initial vetting to perhaps attract a rescue even faster. That's where the Maggie Society came into the picture. The Maggie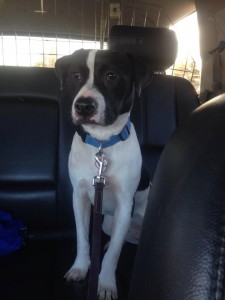 Society, a rescue, temporarily took her in and WAGS took over her care.
Thankfully "Whistling Dixie" had no major medical issues, but she was spayed and vaccinated so she is ready for her forever home. All of those who made contact with Dixie say she is a wonderful, happy dog who is great with other animals and kids — so wonderful, in fact, that her foster has applied to adopt her!
The Tortorella Foundation is always devastated to hear stories like these, but of course we understand it happens every day in hundreds of different ways. Her story makes Dixie (now Lucie) one of Bear's Angels. But in the end, Lucie found a loving home because of this heartless act because of a lot of people cared enough to help her. That makes them angels, too.