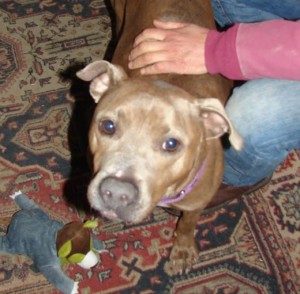 You may remember Sherman for his starring role in a news story for NEWS 12 WESTCHESTER for the SPCA of Westchester back in October or this video on youtube. Or maybe from many of the Adopt Me? posts on The Tortorella Foundation's Facebook site (click here to reach our Facebook site).  Sherman is taking THE NEXT STEP toward his forever home.


It's not a permanent home, but Sherman was moved to PETS ALIVE in Middletown (an animal sanctuary) where he has his own shelter and fenced "yard" to play in until he finds his forever home. The Tortorella Foundation designated funds to Pets Alive Middletown for one of two shelters, including the one where Sherman now resides until his family finds him.
"Anything that helps improve a dog's chances of being adopted is near to my heart," said Debbie Slottko Pesola, a volunteer for Pet's Alive in Middletown about the donated shelters. "I had heard these 'sheds' were coming and I was excited. But when I saw them tonight … I realized that they were so much nicer than anything I could have imagined. They are amazing!!!"


Like many dogs who end up in shelters, Sherman has had trouble really letting his true colors show when people come to visit. He lived at the SPCA of Westchester for more than a year, where he made huge leaps in social interaction, and before that was at a different shelter.
Sherman made great strides in the SPCA  The Way Home Program and was welcomed into Pets Alive to take the next step toward 


finding a forever home. They, too, have trainers who specialize in "hard to place" dogs with one-on-one attention and love to hopefully get them ready for their forever home.
SHERMAN is perfect for just this kind of attention and will hopefully find the right family for him when he is able to leave "shelter" life behind him and put his best paw forward.
For application to adopt Sherman, visit www.petsalive.org/adoptadog.html