Rusty was a shelter dog in Tennessee when the Wallace family found him and brought him the veterinarian to be neutered. It was then they discovered Rusty, an 8-year-old dog, had heart worm. The family was heartbroken because the costs would be too high for the single mom to handle after adoption fees and neutering. So she reached out asking for help so she would not have to return Rusty to the shelter.
The Tortorella Foundation stepped in to help so they could keep their loving dog and paid for the bulk of the heart worm treatment. Rusty, can now stay with his family!
"He already has a following of kids who love him. I took him to watch my 9-year-old daughter's softball game and as he sat and laid by my side, because we know to not overexert him, we both watched as the other dogs around were either barking, jumping and trying to run off their leash," Veronica Wallace, Rusty's new "mom" said. "Rusty sat by me cool as a cucumber and had his belly rubbed by the curious boys and girls who stopped by to admire him. He truly is the perfect fit for our family.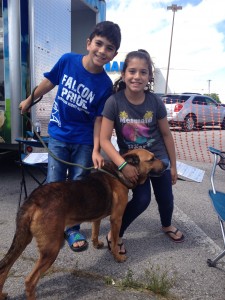 "This is amazing! How a network of people from all over came together to help Rusty. That there are people like you who dedicate their lives to helping dogs live a happy, healthy life. Your generosity is greatly appreciated."
The Tortorella Foundation would like to Thank the Wallace Family for not giving up and fighting to keep Rusty a part of their family.
To help dogs and cats like Rusty, please consider making a donation to Bear's Angels.