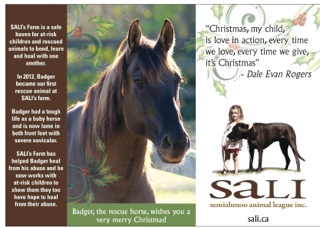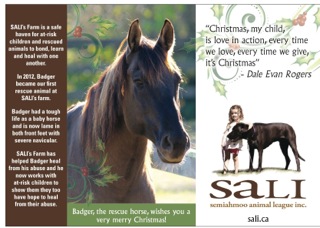 The Tortorella family, since relocating to the West coast, has found a wonderful organization called SALI's Farm (Semiahmoo Animal League Inc.) that they have chosen to support. The farm is located in Surrey, British Columbia.
SALI's Farm has multiple programs, one that brings together rescued animals and at-risk children, and together they show each other how to heal. These young children who visit the farm have witnessed or experienced violence.
There is another program that has touched the Tortorellas. SALI has assisted homeless people who befriend needy animals. SALI offers food and medical care for these animals and their owners, much like Ken and Mack. Ken relies on donated dog food to feed Mack, his very loyal street companion. In the summer of 2013 Ken was trying to find low-income housing and SALI paid for the vet check for Mack and the vaccinations and grooming he needed to live in the housing development. Ken was denied residency there, but was offered other housing that would not allow Mack to join him. Ken decided to live on the street with Mack, rather than without him in a home.
SALI works with other area programs that help low-income families and individuals pay veterinary bills to get much-needed vet care, including care for a dog who needed to have his leg amputated so she would not be put down, providing care to two dogs who were left behind when a woman and her children were forced to leave a violent home and assisting with cost and care to spay and neuter cats in a area reserve.
For more information or to support this organization, visit SALI.ca. Click Here to make a donation to SALI: "Our mission is to honour, nurture and protect the human-animal bond. We help at-risk children, at-risk people and at-risk animals."