The Tortorella Foundation recently made a donation to NC Dog Rescue to aid in the vetting and daily care of a handful of dogs, including puppies, one sick and another injured dog. Here are their stories.


Schraeder's owner had a massive stroke and could no longer care for him.  His owner's daughter had no other choice but to take Schraeder (pictured left) to the shelter because Schraeder has Cerebral Ataxia, causing him to fall a lot when he walks.  He is on prednisone, but he needs an MRI and the daughter could not take care of Schraeder in addition to taking care of her dad.
Schraeder's story is sad, but not uncommon. Schraeder, a 2-year-old pit bull mix was rescued and put in foster as soon as his financial commitment was not so daunting.
Thanks in part to (the Tortorella Foundation's) generosity, a rescue stepped up to help Schraeder. After several pleas on Facebook by NC Dog Rescue and the daughter, a family stepped up to try to help save Schraeder.  He is the sweetest, most gentle dog and gets along with everything including cats.  His new family is waiting to get him into the vet school program to try to help figure out what is causing his illness.
"This dog had no chance, before (the Tortorellas), to get out of Harnett (County Shelter), truly. Dee Dee (Clark of NC Dog Rescue) will make sure he is taken care of locally.  She has a big heart, just like the Tortorellas," said Chris Leone, an animal advocate who works closely with animal rescue organizations in rural North Carolina.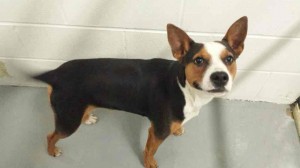 And then there is Lucy.  She was dumped at the Harnett County (NC) shelter dragging her hind leg behind her. Lucy is also super sweet and deserved a chance at life without pain, but being in a full high kill shelter with an injury didn't give her a much hope of ever getting out. But now Lucy is in a great foster home, and her rear leg will be amputated on April 28th. It is believed someone shot her and destroyed her hind leg. She has been dragging her leg behind her quite some time, and even with the pain she is just a sweetheart!
Ruby was a new mom dog who has mastitis and could no longer feed her pups when a young boy contacted NC Dog Rescue's Clark. The boy tried to take them to the shelter, but they were full so they told him to call Clark.  The mom will be vetted and is being fostered by a dear friend of Clark's.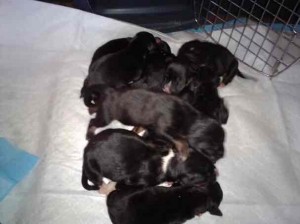 And finally, nine 2-day-old puppies were dumped at the shelter because the mom was too young to care for them. They are being bottle fed by one of NC Dog Rescue's fosters and are doing great. Some still have the umbilical cord attached.
"Thanks to your organizations generosity, all of these pups are safe healthy, getting the vetting, food and love they deserve," said Clark in a message to The Tortorella Foundation. "Thank you all from the bottom of my heart.  I will continue to help as many dogs as I can."
It is the animal rescue heroes on the front lines, like Clark at NC Dog Rescue, who make it possible for the Tortorella's donations to make this kind of difference.  If you are interested in supporting NC Dog Rescue, visit www.ncdogrescue.org.
UPDATE: The puppies' mom is Ruby and is still in foster with WAGS but is doing very well. See pictures below. Also, her puppies were adopted. Two died of pneumonia when they were very young.
SCHRAEDER: Schraeder is doing great in his forever family. There are no updated photos available but we will share them if we can get them! We are also waiting to hear back about his medical condition.