King is a house dog. He was attacked by two off leash dogs in his own yard. His owner called Nina Dix in North Carolina, desperate for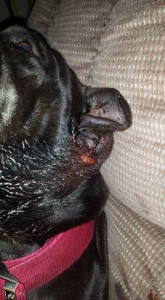 help a few days after the attack because King's wounds started getting infected. His owner could not afford Vet care. Dix agreed to help if he would let them neuter King, too. He said he would.
The Tortorella Foundation immediately agreed to help. After surgery and a few drains, King made a full recovery!
To help animals like King, please consider making a donation to our Bear's Angels Program.