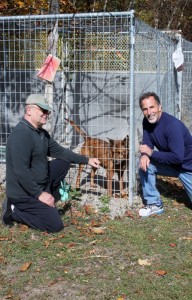 The Tortorella Family and foundation are supporters of Pets Alive of Middletown.
Over the years at Pets Alive in Middletown, NY, hundreds of animals who were never given a fair chance before having been paired with forever fosters, who are able to ensure they will live out the rest of their lives happy and cared for. The animals who remain at
this "no kill" facility are given enrichment and love that will help them someday find a forever home. Pets Alive continues to rescue dogs, cats and rabbits locally and from kill shelters around the country where they are working towards becoming no-kill themselves.
Pets Alive strives to help the animals who come into its care and also provide resources to other shelters who want the same for every companion animal — a loving, caring home.
"This work would not be possible without our generous donors, like the Tortorella Foundation, whose support allows our mission to continue and thrive," said Melissa Stone, Development Director for Pets Alive Middletown. "Their support has gone directly to the training/behavioral rehabilitation for dogs who would have little to no other option in traditional shelters. Not only have they been instrumental in bringing these special case dogs to our sanctuary but they have also financially supported the training needs of these pups."
Lenox is a very special dog to the Tortorellas and one of the many Pets Alive success stories. His story is coming soon!
To learn more about the adoptable pets at Pets Alive Middletown, visit their website at petsalivewest.org/index.php/pets-for-adoption or click here to donate to Pets Alive of Middletown.