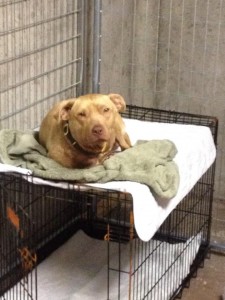 It all started in North Carolina, where sweet, neglected Twix was found and brought to a shelter. He had a horrible neck injury from an embedded collar. He was also heart worm positive. That's where Suruluna and a host of animal loving angels came in to play. It took a lot of hands and committed hearts, but they pulled it together and brought Twix to Suruluna in New York.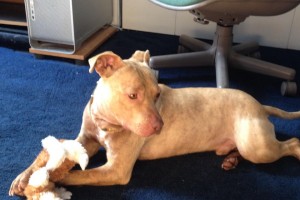 Suruluna, John Iannuzzi, scores of volunteers and donors and John and Christine Tortorella all participated in saving this beautiful dog, Twix. Suruluna has taken in Twix, John Iannuzzi helped find the transporter and with the fundraising efforts, and the Tortorellas sponsored a portion of his medical bills in order to save this special dog. So many people were involved in this rescue with donations of time, love and money. The Tortorellas look forward to seeing his HAPPY TAIL when he finds his new home — hopefully very soon.
Click here to see video of Twix's arrival at Suruluna!
But the best news is, Twix has healed and was adopted! Here are a few pictures of Twix with his new family!