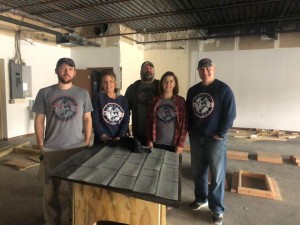 The strong hands and caring hearts of volunteers in the Columbus area have come together over several weekends this spring to construct dog houses for needy pups.
These sturdy, well-built homes will serve to keep canines warm in the frosty winter months and provide a safe haven throughout the year.
Materials and paints were donated by Lowe's -Polaris Parkway. Elbow grease, talent and a generous desire to help animals in need were provided by: Cameron McLeod, Ian McLeod, Corbin McLeod, Yua Noshiro, Tyrone Russell, Rebecca Krumholz, John Harp, Jennifer Harp (of Bear's Angels – Columbus), Melissa Zotek, Cathy Krumholtz, Anthony Rothman (of 97.1 The Fan Radio), Jamie McGann, Heath McKenzie and Amber McKenzie.  The Tortorella Family Foundation thanks each and every volunteer for providing such love and inspiration to us all.