Top Story

Join the SPCA of Westchester at their Wags & Wiskers Walkathon & Pet Fair!
Click Here to Pre-Register
Join the SPCA of Westchester for the event of the year! The 2013 Walkathon and Pet Fair takes place on Saturday, May 4th at FDR State Park in Yorktown Heights, NY from 10 a.m. to 2 pm. (official walk starts at 11 a.m.). There will be food and refreshments for people and their canine friends, live music, games and activities for the kids and entire family, doggy demos and over 70 booths in the Vendor Shopping Village!
*If you are a Cat Lover you can still sign-up and join in the fun.
Recent Events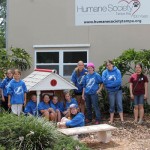 Inspired by the Tortorella's love of animals in need the Tampa Bay Jr. Lightning Girls U14 Hockey team spent a day giving back to a local animal shelter, The Humane Society of Tampa Bay! The girls made homemade dog treats and no-sew cat blankets. Making cat blankets! Making homemade doggie treats! They collected donations through [...]